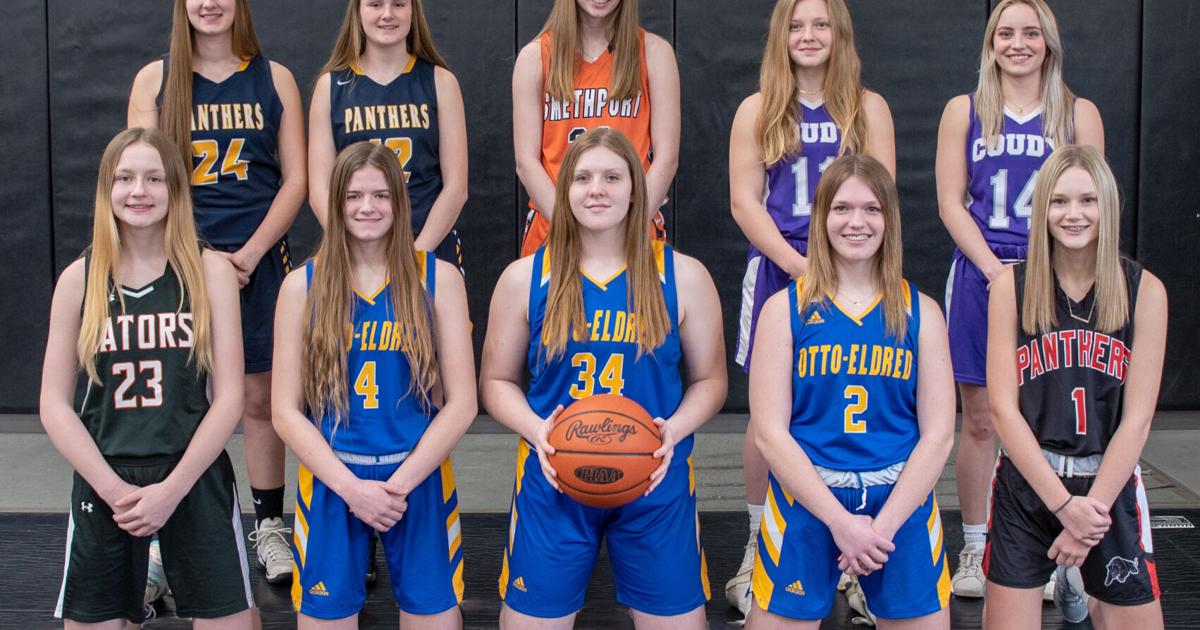 Girls NTL Hoops: Sheeler and Gray Recognized After Dominant OE Season | Basketball
DUKE CENTER — Everything about Otto-Eldred's season was dominant.
The Lady Terror basketball team swept the North Tier League in 2021-22, and unsurprisingly, OE took home the league's post-season awards as well.
Katie Sheeler was named Player of the Year and Shawn Gray was selected Coach of the Year after a season that saw the Lady Terrors battle deep into the PIAA playoffs. With a 16-0 run through the NTL, OE finally dethroned their rivals of recent seasons and won the league for the first time in 44 years.
"It was one for the ages, that's for sure," Gray said. "It seems like it's going on, in a way. You look back and the season went by in the blink of an eye, but at the same time it was a long, long season. I can't say enough about my players – if I had been allowed to name four (All-Stars), we probably would have had four.
Sheeler was nothing short of spectacular for the Lady Terrors — the junior guard averaged 18 points, 3.1 assists, 3.2 rebounds and five steals per game. After dominating the North Tier, she was crucial in OE's run to the District 9 Class A Championship Game and their subsequent run to the PIAA Quarter-Finals.
"(Sheeler) is a once-in-a-lifetime player," Gray said. "She's probably the best player in District 9 and maybe even the Big 30, and watching her and coaching her every night is amazing. I'm glad I can do that for another year."
Sheeler was joined on the All-Star team by a pair of junior teammates, including guard Anna Merry, who averaged 7.9 points, 2.6 rebounds and 2.7 steals per game. Merry's defense and bustle were the difference for OE, while forward Bri Heller, who averaged 8.2 points, six rebounds, 2.3 steals and 1.4 blocks per game, bullied the north level in the painting.
"It's crazy that these three are juniors – it seems like just yesterday they were freshmen, trying to make their way onto the varsity team and get a few minutes among the depth we had," Gray said. "To see their growth and to see the whole team come together like she has is beyond words. I can't describe it, really.
In just four seasons as OE boss, Gray has already racked up some impressive credentials. The Lady Terrors are 79-21 under his leadership, and with the return of Sheeler, Merry, Heller and others, Gray has positioned OE for lasting success.
"I'm flattered by that and grateful that my peers look at me that way, especially after coach (reigning NTL Coach of the Year, late Bob) Tingley," Gray said. "It means a lot. But you don't become manager of the year without having a good team and good players, that's for sure.
Coudersport's 13-3 conference record was second-best in the North tier. Aside from two losses to OE and a split with Smethport, the Lady Falcons swept the rest of the league, finishing 15-8 on aggregate and earning a playoff spot.
Liz Frame and Bel Porterfield were each selected NTL All-Stars for Coudy.
Frame, a senior guard, averaged 11 points, 4.5 steals and three assists per game. Porterfield, a junior guard, averaged six points, four steals and two assists, serving as Coudy's top defenseman.
Smethport finished narrowly at 12-4 in the league, earning an All-Star selection in second-year guard Elizabeth Hungiville. Hungiville was a dual-threat scorer for the Lady Hubbers, averaging 13.5 points and 9.2 rebounds per game while amassing 51 steals and 10 blocks.
Northern Potter finished behind Smethport in the league at 11-5, but got their revenge in the playoffs, where Lady Panthers knocked out Lady Hubbers in the first round.
Courtney and Rebecca Martin were each selected All-Stars for NoPo, as they often worked in tandem to lead the team at both ends of the floor. Courtney Martin, a senior guard, averaged 9.7 points, 9.5 rebounds, 2.5 assists and 4.2 steals per game, while Rebecca Martin, a junior forward, averaged 11.1 points , 11.2 rebounds, 1.4 assists and 2.7 steals.
Rounding out the All-Star selections, Port Allegany sophomore forward Kayleigha Dowell (10.3 points, 6.5 rebounds, two steals, 1.2 assists, 1.1 blocks per game) and guard Austin sophomore Ella Brewer (11.8 points, 4.3 rebounds, 4.5 steals per game).
"This group has been dominant since they were in 5th and 6th grade, so I think they've always seen themselves as the team to beat since they were young," Gray said. "They kept that mindset throughout last year and then this year, looking at it as if every team had to beat us."