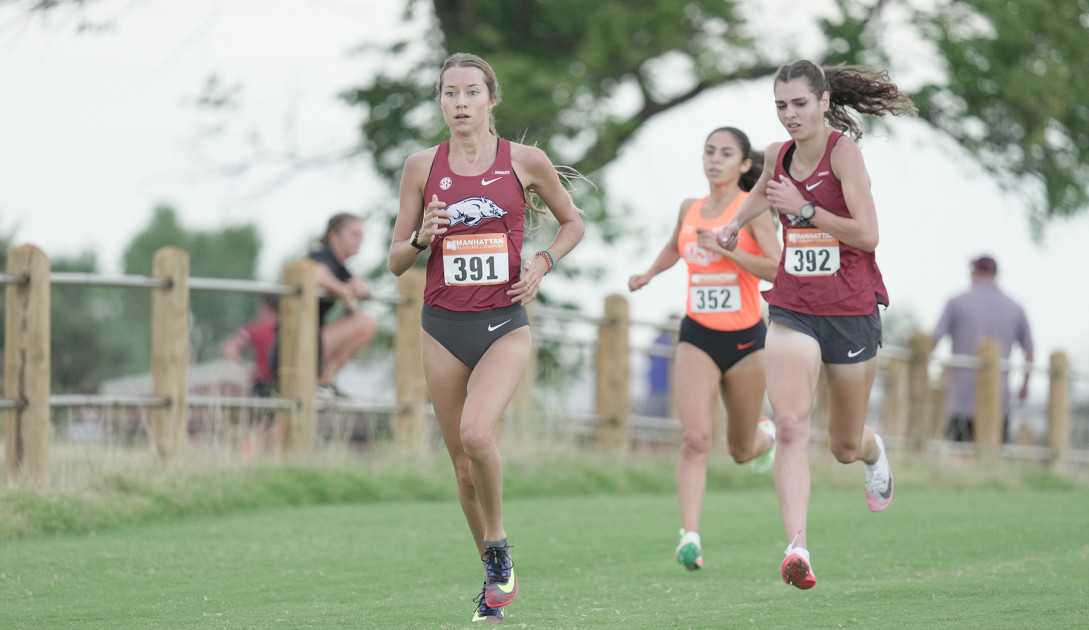 Katie McCune wins Stampede, leads Arkansas to tag team title
JOPLIN, Mo. – Razorback senior Katie McCune clocked 16 minutes and 50.8 seconds over a 5,000m course to win the Missouri Southern Stampede on Saturday morning, leading Arkansas to a successful tag team title defense with a total of 34 points.
McCune bettered her previous best time on the Tom Rutledge course by almost a minute when she competed for Drury, after running 17:50.6 in 2018.
"Katie is a young woman who has had a great career at Drury, and as a grad student, we are very excited about her future," Arkansas women's head coach Lance Harter said. "She kind of showed a little preview of what we're going to see, especially during the track season.
"She's going to be a major contributor for us in cross country. She achieved her lifetime record on this course, as Drury comes to this meet every year, and it was a fulfilling performance for her.
Second in the race was Pittsburg State's Jentrie Alderson in 16:53.8 with Razorback Gracie Hyde repeating her third-place performance from last season, clocking 17:04.4 to 16:59, 5 on this course last season.
Teams finishing behind Arkansas included Pittsburg State (91), Southwest Baptist (117), Rogers State (137), Cal State East Bay (166), Fort Hays State (166), Missouri Southern (175), St. Mary (259), Oklahoma Baptist (291) and Ouachita Baptist (302).
A total of 25 teams produced a score in the Division I and II school field. The Razorbacks team score of 34 points came from an adjusted finish of 1-3-5-8-17.
"At the team level, we had people who are freshmen and need racing experience at that level," noted Harter. "Or we had people still working on their return from injury. For example, Gracie was out last track season with plantar fasciitis.
"So it was nice to see that as a unit they came out and took command of the race. Then they never let go. We're really happy with the result and it's a great stepping stone when we get the whole team together next week for the Oklahoma State Jamboree.
McCune was one of three newcomers to Arkansas' top five. Nyah Hernandez, a junior transfer, placed fifth in the race with a 17:05.1 and was the third Razorback to cross the finish line while rookie Mary Ellen Eudaly finished 18th in 17:40, 9 and won the fifth position among the Arkansas crew.
Adeotte Vaughan placed ninth in the race and finished fourth among the Razorbacks with a time of 17:18.3. Freshman Mackenzie Rogers finished 19th in 17:44.0 while redshirt freshman Heidi Nielson placed 24th with a 17:50.0.