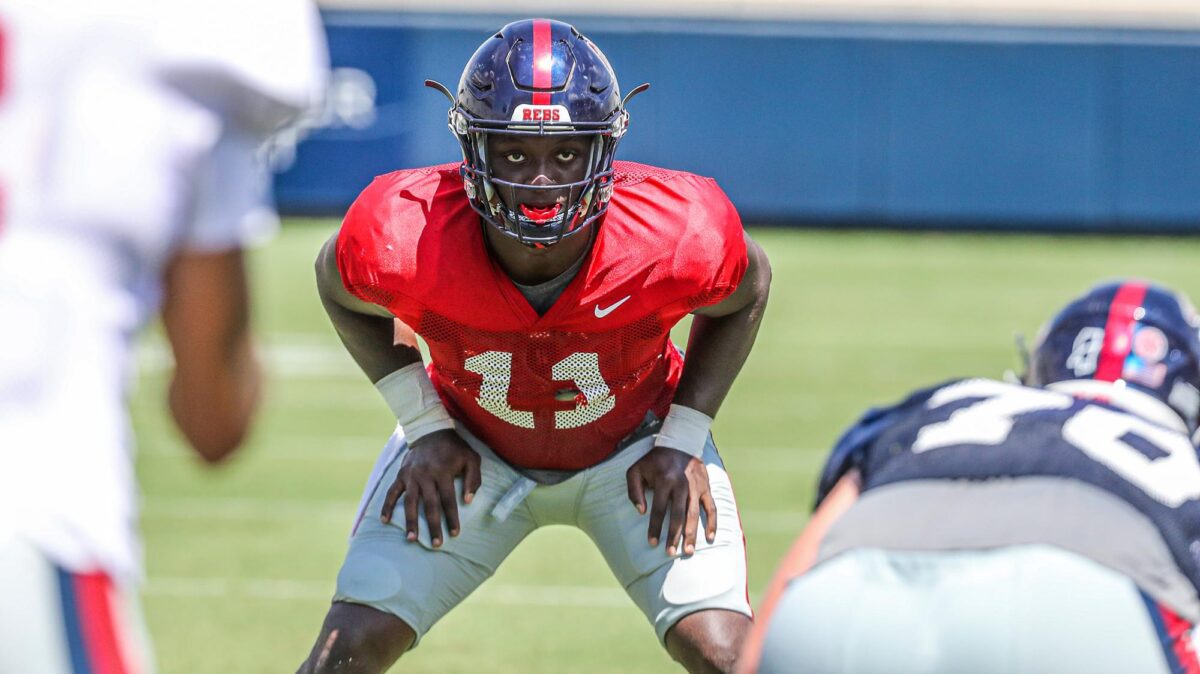 'Lock In' Sign Keys Rebels' Improvement
OXFORD, Miss.- Before entering the training ground, Ole Miss players press a sign to remind them to focus on this day. This panel simply says "Lock".
Of course, each lock comes with a key. In this case for the rebels, make only the keys. A sin Austin Keys.
The redshirted sophomore linebacker returns to the field after suffering an injury last season and is one of the veterans on the defense. Touching this sign every day reminds him that it's time to go to work.
"The 'lock' sign, I feel like the coach always talks about it," Keys said after Monday's practice.
"When you hit that sign, you know, it's just a sign to like to leave everything behind before entering the field. Give it your all when you step onto the pitch and give 100 (percent) and leave no regrets."
Austin Keys
When healthy, Keys gave it his all on the court for Ole Miss. In ten games, the Collins, Miss., native recorded 12 tackles, five of them solo, and recovered a fumble.
He's not the only player motivated by the sign outside the training ground.
"To me, I feel like this sign means lock when you enter the field," sophomore safety says Ladarius Tennison said.
"Can't say fair to me but to everyone else I feel like this sign means you have to do this when you press this sign you're locked up and you're serious and you feel like that you have to go hard."
Ladarius Tennison
Hustling is something Tennison did at his old school, Auburn. For the Tigers last season, he played in 12 games and had 22 tackles, including 4.5 for losses.
The sign also inspired Markevious Brown, a redshirt freshman defensive back, looking to get his first significant playing time this season for the Rebels.
"For me personally, when I'm on that court and pressing that sign, even though I'm already mentally locked away, it lets me know that every play you know is giving it your all. I'm all in, all I got."
Markevious Brown
Players compete
This kind of motivation to hit the backboard led many players to fight for playing time once they entered the practice field.
"Competition at all levels is just football," Keys said. "I expect competition, that's what it is. We try to do (compete) every day to improve each other, but you know we are all looking for reps and work.
The competition does indeed escalate during this first week of camp, which can sometimes lead to a bit of turmoil – not necessarily a bad thing.
"As day five, you know, we have a lot of young guys, I feel like we're getting there but I feel like we have more work to do," Tennison said. "We get restless on the pitch because we've had a lot of excitement. We know what kind of players we have on the pitch, so it's always kind of a competition, so it's bound to get loud, so a lot of excitement.
Tennison says the team is also close when not on the football pitch.
"Off the field, you have fun with the whole team. We are having fun. We talk about business. We work. A lot of guys are like a brother off the pitch. You can see us fussing on the pitch, but off the pitch we're all together, all hanging out and having fun."
Ladarius Tennison
After a week of camp, the players seem to have a lot of excitement ahead of the season opener on September 3 against Troy.
At least, all the signs point to it.
Steve Barnes
Steve Barnes joins The Rebel Walk as Senior Editor and brings a trifecta of journalistic experience. As a writer, he has covered college sports for Rivals.com, Football.com, and SaturdayDownSouth.com and has also served as a beats writer for various mainstream newspapers.
He served as a broadcaster for arena football and several national tournament events for the National Junior College Athletic Association, as well as hosting various radio shows.
A former director of sports information at Albany State University (Ga.) and an assistant in Troy and West Florida, he has helped organize many NCAA conferences, regional and national events, including serving on for five years on the NCAA Division II World Series Media Committee. .
Barnes, a native of Pensacola, Florida, attended Ole Miss in 1983-84, where his first journalism teacher was David Kellum. The duo have come a long way since then.
He will bring a proven journalistic background, as well as a knack for finding out-of-the-ordinary story angles to The Rebel Walk.
Barnes continues to reside in Pensacola just ten minutes from the beach because he has taste and brains.
Related