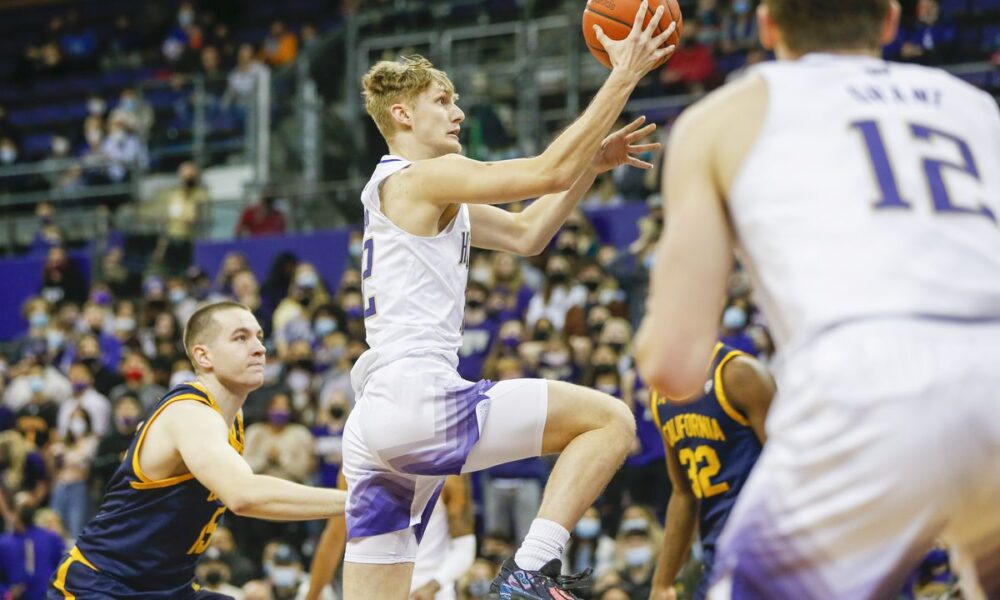 RealDawg.com' predicts Husky men's basketball start and rotation – Realdawg.com
With Washington Husky Men's Basketball's 2022-23 roster seemingly complete, after the addition of Kentucky transfer Keion Brooks, it's time to start making predictions about the starting 5 for the upcoming season.
At the point guard, there will be a difficult decision to make. Noah Williams, a transfer from Washington State, had a tough season last year, but if he's able to regain his sophomore form, he could walk on Montlake as the presumptive starter. Two small issues though, Koren Johnson and PJ Fuller. Koren Johnson, an incoming freshman, has a solid chance of making a big impact, even if he's not on the bench. If Noah Williams comes to UW slightly rusty, it wouldn't be a shock to see Johnson increase the number of minutes as the year progresses. The same can be said for PJ Fuller who replaced Terrell Brown Jr on the bench last season as well as a shooting guard for Cole Bajema and Jamal Bey. It's entirely possible that PJ will get second place again to the leader as well as the shooter. The other freshman, Keyon Menifield, has an outside chance to play, but is more likely, in my opinion, to receive a redshirt before being thrown into the deep end.
The Point Guard prediction:
Initiator: Noah Williams
Backup(s): PJ Fuller, Koren Johnson
Rotation Piece/Red Shirt: Keyon Menifield
At the shooting range, it's a little more cut and dry, Jamal Bey was the starter last year and we can assume that he will be the starter next year as well. There is an outside chance that Cole Bajema or PJ Fuller could steal the job but I think right now Jamal Bey is starting as a 5th year senior followed by a big addition of Bajema and Fuller when Jamal Bey makes a pause.
The Shooting Guard Prediction:
Initiator: Jamal Bey
Alternates: Cole Bajema, PJ Fuller
The small forward is probably the easiest prediction for the team: Keion Brooks. That's why Mike Hopkins recruited him in the first place. They must fill the void left by Emmitt Matthews. That's exactly what Brooks will do. Now who supports him is the question. Well, there are a few options. Samuel Ariyibi is the only other true small forward on the list. However, he is very unknown as we hardly saw anything from him last season. There's a chance he could gain some playing time in 3rd position, but right now it's impossible to predict where he sits in the lineup. Someone we have a lot more information about is Langston Wilson. While listed as a power forward, if he doesn't earn the starting spot there, one would assume he gets game time at both 3 and 4.
The Small Forward prediction:
Initiator: Keion Brooks
Backup: Langston Wilson
Turning piece: Samuel Ariyibi
The power forward is another tough one. Of all the power forwards on the list, none have made a name for themselves yet. Jackson Grant had a chance last year but the former 4-star had a bout of Covid early in the season which slowed his development and he lost quite a bit of weight. Grant is set to have a breakout season this year, but he has competition in the lanky, Langston Wilson. When Grant fell ill, it was Wilson who got the backup role last year, and he never let go. Now that the starting spot is open, Wilson has a shot at taking the starting role. At this point I don't think there is enough information to make a good prediction. The only certainty is that incoming freshman Tyler Linhardt will most likely play a small role in the rotation and possibly be redshirted.
The Power Forward prediction:
Initiator: Jackson Grant/Langston Wilson
Rotational Part/Red Shirt: Tyler Linhardt
It was obvious that after Nate Roberts left, Coach Hopkins had some big shoes to fill…literally. That's exactly what he did with double seven-footers Frank Kepnang of Oregon and Braxton Meah of Fresno State. Both of these guys have high potential, but in my opinion the likely starter will be Frank Kepnang. Although Riley Sorn might have something to say about that. The most experienced center on the roster has the chance to finally make a name for himself in his senior year and finally take that leap that all Husky fans have been hoping for.
The Centre's prediction:
Initiator: Frank Kepnang
Backup(s): Riley Sorn/Braxton Meah
Final predictions:
Noah Williams as point guard
Jamal Bey at shooting guard
Keion Brooks at small forward
Jackson Grant or Langston Wilson at the forefront
Frank Kepnang in the center
Coach Hopkins needs this season to go well or his seat will be hotter than it already is.
To keep up to date with all things Huskies, be sure to follow Real Dawg on Twitter and check Realdawg.com for exclusive information and the latest news as it happens.
This article is also posted as a forum topic here »