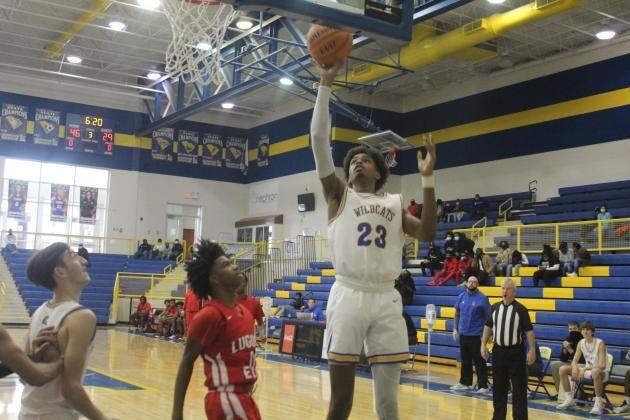 SC Basketball Coaches Association Releases Preseason Rankings, Top Seniors | Colombia
[ad_1]
Brookland-Cayce High School hosted the annual SC Basketball Coaches Association media day on Wednesday.
The event helped highlight the top 10 pre-season rankings in each ranking. The Association has also published its list of the best seniors in each classification, as well as a list of elite players for girls and boys.
Preseason number one Ridge View's Gregory Jackson and Lexington's Cam Scott made the Elite Boys squad, while University of South Carolina signatory Talaysia Cooper of East Clarendon, Camden's Joyce Edwards, MiLaysia Fulwiley of pre-season Class 2A number one WJ Keenan and Lower Richland's Anala Nelson was selected on the Elite Girls list.
SC Basketball Coaches Association Preseason Rankings
(BOYS)
Class 5A
1. View of the ridge
2. Dorman
3. Dutch fork
4. Riverside
5. Goose Creek
6. Clover
7. Mauldin
8. Fort Dorchester
9. Conway
10. JF Byrnes
Top five seniors – Lawrence Bartee, Clover; Houston Jones, Dutch Fork; Jonah Nesmith, Carolina Forest: Jordyn Surratt, Dorman; Isaiah Williams, Blythewood
Class 4A
1. South Point
2. Greenville
3. Irmo
4. Florence west
5. Hartsville
6. Travelers rest
7. North Augusta
8. AC flora
9. Beaufort
10. Hilton Head
Top Five Seniors – Jacob Brown, Travelers Rest; Bryson Felder, Westwood; Tristan Lexander, Hartsville; Quan Peterson, Pointe Sud; Dylan Williams, Irmo
Class 3A
1. Orangeburg-Wilkinson
2. Keenan
3. Seneca
4. Dillon
5. Berea
6. Ocean side
7. The blue crest
8. Daniel
9. City of the lake
10. Brookland-Cayce
Top Five Seniors – Justin Bailey, Blue Ridge; Demarco Bethea, Dillon; EJ Evett, Seneca; Jordan Simpson, Orangeburg-Wilkinson; Bobby Taylor, Daniel
Class 2A
1. Church of Christ
2. Gray college
3. York preparation
4. Wade Hampton
5. Andrew Jackson
6. Landrum
7. Philippe Simmons
8. Abbeville
9. Wood
10. Chesnee
Top Seniors – Russell Branch, Barnwell; Kory Davis, York Prep; Miles Haight, Phillip Simmons; Ca'Darrius Sowell, Andrew Jackson; Isaiah Washington, Landrum
Elite boys
Jordan Butler, Christ Church; Noah Clowney, Dorman; Zachary Davis, Denmark-Olar; Gregory Jackson, Ridge View; Cam Scott, Lexington
(GIRLS)
Class 5A
1.summer
2. The rocky hill
3. JL Mann
4. Wando
5. Dorman
6. Lexington
7. Woodmont
8. West Ashley
9. Summerville
10. JF Byrnes
Top five seniors – Jasmine Grant, Summerville; Jasmine Jenkins, Cane Bay; Kristen Jenkins, West Ashley; Savannah Porter, Byrnes; Alexis Sexton, Lexington;
Dylan Silber, Wando (inj.)
Class 4A
1. West side
2. North Augusta
3. Westwood
4. South Point
5. AC flora
6. Catawba Ridge
7. Bluffton
8. East side
9. Florence of the south
10. North Myrtle Beach
Top Five Seniors – Jacob Brown, Travelers Rest; Bryson Felder, Westwood; Tristan Lexander, Hartsville; Quan Peterson, Pointe Sud; Dylan Williams, Irmo
Class 3A
1. Keenan
2. Orangeburg-Wilkinson
3. Camden
4. The blue crest
5. South side
6. Emerald
7. Wren
8. Clinton
9. Bishop of England
10. Daniel
Top Five Seniors – Justin Bailey, Blue Ridge; Demarco Bethea, Dillon; EJ Evett, Seneca; Jordan Simpson, Orangeburg-Wilkinson; Bobby Taylor, Daniel
Class 2A
1. Blacksbourg
2. Church of Christ
3. Money bluff
4. Philippe Simmons
5. Andrew Jackson
6. Gray college
7. Hi
8. Latta
9. Marion
10. Barn well
Russell Branch, Barnwell; Kory Davis, York Prep; Miles Haight, Phillip Simmons; Ca'Darrius Sowell, Andrew Jackson; Isaiah Washington, Landrum
Elite Players – Talaysia Cooper, East Clarendon; Joyce Edwards, Camden; MiLaysia Fulwiley, Keenan; Jada Jones, Rock Hill; McCall King, Church of Christ; Anala Nelson, Lower Richland; Jessica Woods, Westwood; Shardasia Zeigler, Orangeburg-Wilkinson
[ad_2]