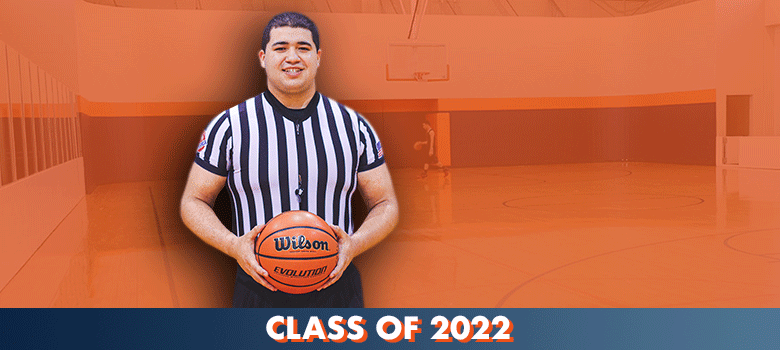 UTSA Student Fernie Perez Receives National Intramural Association All-American Honors | UTSA today | UTSA
He began his career as an umpire at UTSA and worked for sports programs for five years, three of which as a student coordinator.
"Since my first day on campus, I've worked for athletic programs," Perez said.
To be selected to officiate at the NIRSA National Basketball Championships, officiating students must receive an offer based on their performance in one of the championship games taking place across the country. Notably, Perez is the first UTSA student to officiate at the NIRSA National Basketball and Flag Football Championships.
Whether regional or national, each tournament has a committee of officials made up of professionals in the field from various universities. All officials are evaluated for each game and receive feedback from the committee to improve their future performance.
Perez got his first officiating opportunity at a national basketball championship in 2019. He was also selected in 2020, but the tournament was canceled due to the COVID-19 pandemic.
When play resumed, Perez received an offer to the NIRSA Basketball Regional Championships at UT-Arlington in March 2022. He finished as the tournament's top official.
Perez officiated nine games in three days at the national basketball championships in Wichita, Kansas, earlier this month. Due to his excellent performance, the NIRSA Officials Committee chose him to be the team manager for the Men's Club National Championship match.
After the match, NIRSA recognized Perez as one of six USA officials.
"I am truly honored to give back to our program and represent UTSA at the national level," he said.
He is the second UTSA student to receive this honor. The first was Adreanna Broussard in 2015.
Credits Perez Michael CastanedaDeputy Director of Sports Programs, and Cy Fondalathletic program coordinator, for helping him achieve this honour.
"Even though this award is an individual award, it symbolizes so much more," Perez said. "I am fortunate to be a product of those in the sports programs who have dedicated countless hours to making me the official I am today."
During his many years of service, Perez has been an indispensable part of the UTSA Campus Recreational Sports Programs team. "My journey into campus recreation has been nothing short of spectacular," he said.
Perez is passionate about pursuing his career in the recreation field. He currently officiates at the high school university level for basketball and at the high school and college level for football.
"The relationships I've built here have helped me grow tremendously in my personal and professional life, which I'm very grateful for," Perez said. Upon graduation, he will become a graduate assistant for intramural sports at Texas A&M University.